Corn Hole Orders- DIY Class or We make it for you!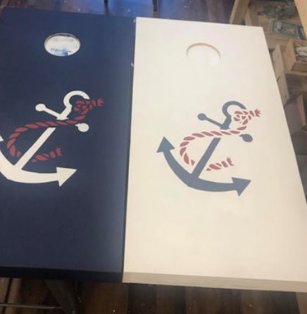 Corn Hole Orders- DIY Class or We make it for you!
Cost $200-$250 includes 2 regulation corn hole boards, all materials & instructions for the DIY Workshop. Design Consult…you can sign up for one of the selections we offer or we can connect for a custom design. Once you purchase email to set up your time to make boards (this is a 1:1 class) or to review your design.
Follow the steps below and sign up is easy!
1) Select a saying from the Wood Photo Project Gallery on our website or Facebook page.
Be sure to comment where indicated with all needed details such as names and dates. I will use this information to make your stencil for the event.
This is your section to communicate with me... your designer!
We offer 300 designs but If you want to us do a CUSTOM design instead, you can easily upload an inspirational photo, Pinterest or Etsy picture that we will use as a guide!
Always feel free to email me at createandescape@outlook.com with any questions. Now let's get ready to bring your Pinterest dreams to life at our event!
ONLY ROOM FOR 10. TICKET SALES CLOSE ON JUNE 8