1/26/19 January Family Paint Your Pet 4:30 PM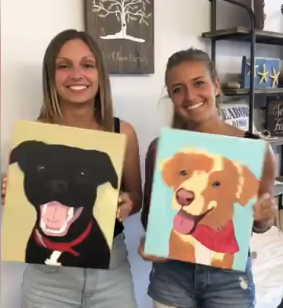 1/26/19 January Family Paint Your Pet 4:30 PM
Join us for Paint Your Pet!
We are going to create a canvas masterpiece of YOUR pet! Our step by step class makes it easy and fun. Our talented instructor, Warren will lead this stress free class which is open to ages 8-100+ yrs old! Once you sign up you will email us a picture of your pet which Warren will then sketch onto a canvas so your project is ready for you when you walk in. Class runs 2 hrs.
Sign up and then email us a picture of your pet to createandescape@outlook.com, put "Paint your Pet" in the subject line. Our Artist will sketch your pet on to the canvas and during class he will instruct you on making your masterpiece!
To CHECK OUT scroll to top right of the page and click on Shopping Cart icon. You will get an email confirmation once you register.
Always feel free to email me at createandescape@outlook.com with any questions.
IMPORTANT: YOU ARE NOT REGISTERED UNTIL YOU CHECK OUT and add your credit card information. (After clicking "Add to Cart", scroll to top of page and click on the SHOPPING CART icon to finish your registration). Thank you!
Workshop #139