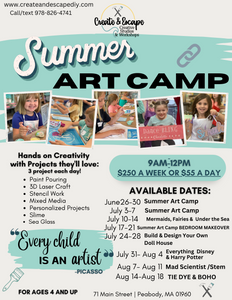 We're on a mission to bring CREATIVITY & CULTURE to everyone
Create & Escape Art Foundation is a nonprofit founded in 2021 that provides accessible and inclusive art and culture opportunities for the local community.
Your donations help us provide creative workshop experiences and DIY kits to local caregivers, vets, teachers, children, and others in support of mental health and inclusion.
The concept was born during the pandemic, when we saw those who could afford it were able to explore their creative side to help them relax, unwind, reduce stress and manage anxiety through art & culture activities.

However, not everyone could afford these self-care art & culture opportunities when priorities were putting food on the table and paying housing needs. We believe that creative experiences are vital to EVERYONE'S mental health, to promote self-care, personal growth, and enrichment.
There is a positive connection between art and mental health
Artistic activities such as painting, creative writing or drawing are known to lower stress levels and promote mental calmness. Creating art takes your mind off your everyday life and provides a relaxing distraction. 

As we have been reminded during the pandemic, mental health challenges in the healthcare setting extend well beyond those who are ill. Families of the patients as well as medical staff are under enormous stress, emotional strain, and isolation.

Our programs help patients to caregivers to staff to help them deal with the stress and anxiety of their healing process, their care taking responsibilities and their working environment.